Nitrogen budgets of a lower subtropical forest as affected by 6 years of over-canopy and understory nitrogen additions
Although tropical and subtropical regions have replaced temperate regions as the global-change hotspots for increased atmosphere nitrogen (N) deposition, whether the regional forests reach N saturation is still unclear. Understory or floor N addition has been commonly used in N-deposition studies, but the results of such studies have recently been challenged because they fail to account for canopy interception, assimilation, and leaching processes.
The research group of Vegetation and Landscape Ecology from South China Botanical Garden conducted a field experiment to quantify the effects of over-canopy and understory N addition on N budgets in a lower subtropical monsoon evergreen broadleaved (LSMEB) forest, based on field experiment platform in Shimentai National Nature Reserve. The results showed that the LSMEB forest was not N saturated after receiving additional N at 25 and 50 kg ha-1 yr-1 for 6 years. Plants were able to absorb the added N by increasing the N concentrations in their organs, with 120-412% increasing trend of plant N pools under N-addition treatments. Canopy absorption of N resulting from over-canopy N addition led to increases in N concentrations in tree organs but not to increases in tree biomass. Understory N addition could underestimate the effects of N deposition in forests due to neglecting canopy N interception and canopy effects on N redistribution. Additional experiments using over-canopy N addition are needed to assess the true effects of N deposition on different forest ecosystems in different climate zones.
The study was published in the Science of the Total Environment (IF2021=10.753). Post doctor Yang Tian and Associate Prof. Jun Wang were the co-first author. Prof. Hai Ren and Prof. Hongfang Lu were the co-corresponding author. The study was funded by the Key Research and Development Program of Guangdong Province (2020B1111530004).
For further reading, please refer to : https://doi.org/10.1016/j.scitotenv.2022.158546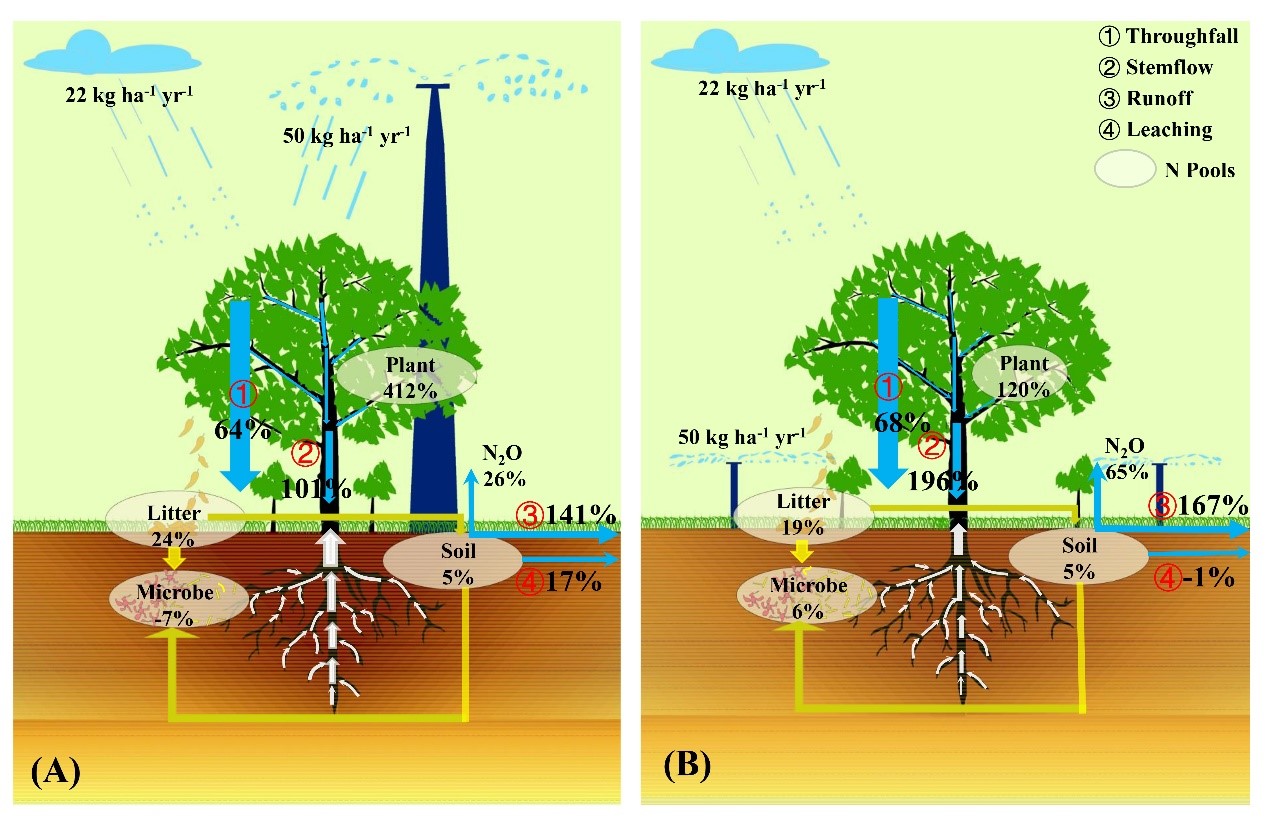 Fig. 1 Effects of over-canopy (A) and understory (B) N addition at 50 kg of N ha-1 yr-1 on the annual N budget of the LSMEB forest ecosystem. Positive and negative percentages in the figures indicate increases and decreases relative to the control.