Researchers Propose New City-wide Parking Guidance System
Find a good parking place and park your car become one of the most challenging tasks for drivers in China.
Though city-wide parking guidance systems (CPGS) is doing much to manage it, the state of art of CPGS is on the basis of the real-time parking data throughout the city with extremely high cost of data collection, thus there is few effective system that could contribute to relieving parking difficulty so far.
A research team led by Dr. PENG Lei from Shenzhen Institutes of Advanced Technology (SIAT) of Chinese Academy of Sciences has proposed a new lightweight technical solution, addressed the current environment for lacking parking data.
In order to answer which parking would be considered as the candidates, Dr. PENG has built a model based on the public parking information under the access of the authority of the government, the model parameters including capacity, service scope, location, etc.
Compared with other counterparts, this model didn't need the complete real-time data, as for the secondary data which needed to service in this model as well, the research team has employed an automatic data generation method named Generative Adversarial Networks (GAN) to fit the missing data according to the spatiotemporal similarity among parking, which greatly reduced the cost of data collection from city-wide perspective.
For drivers-friendly application, the research team furthermore developed a vehicular APP with a built-in model for recommending a proper parking place, considering the factors such as destination, driving context, and estimated parking possibility.
The best result will change over the moving vehicle, and gave the driver a dynamic, personalized and supreme option via voice and Graphical User Interface (GUI).
"We have spent 6 months on collecting data, training model and carrying out the parking guidance experiments. Compared with the traditional methods, we have reduced the time costs up to 70%. And the guidance effect is obvious, especially in rush-hour and hot-spot areas, the time spent on cruising for parking reduced 20% on average." said Dr. PENG, "We are looking forward to cooperating with industrial partners to push forward the technical solution to commercial product."
The study was published in IEEE Intelligent Transportation Systems Magazine, and the chief editor Porf. Vlacic Ljubo has commented: "In my opinion, the technical solution presented in this paper for improving a parking guidance service looks promising. Also, I highly appreciate that the work is implemented and tested in a real scenario."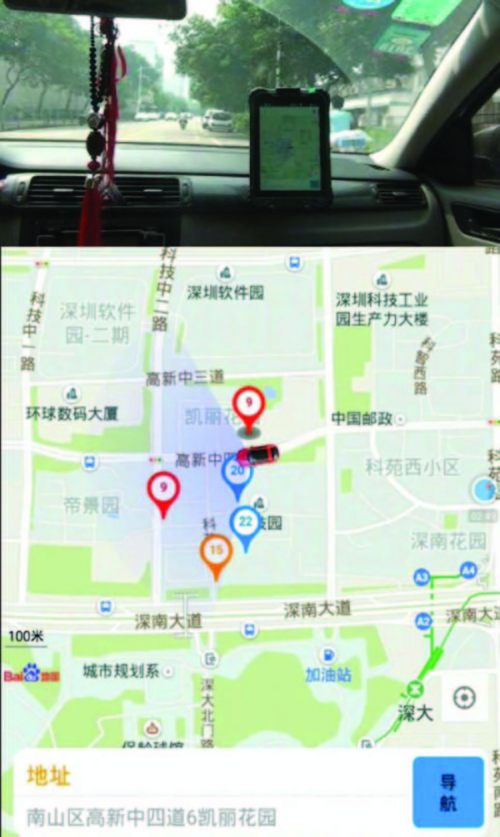 The vehicular parking guidance application. (Image by Dr. PENG)
Media Contact:
ZHANG Xiaomin
Email: xm.zhang@siat.ac.cn